I think is too easy to get caught up in the day-to-day activities of our work and personal lives. Sometimes we need to ensure we are taking the time to reflect on what is really important.
Establishing a measurement framework is about defining the most important outcomes you need to achieve for a defined period of time, recognizing upfront that these outcomes you establish will change and may be influenced by external factors.
As an example, if I were to ask my nine-year-old what some of his goals might be, I am sure he would indicate that he would like to have more time to play. The outcome he is trying to achieve is increased play against the current standard; a couple of external factors impacting this desired outcome is the homework and chores he is assigned. His measurement framework would look different than the one he is actually measured against.
In the world of Service Management, we need to take into account external factors and balance these with the internal outcomes we define as important. External factors take into account anything that is going to influence how we design and measure the process. For example, business goals or IT goals are external factors we consider in the design of our processes and the corresponding measurement framework.
Before we get started here are a few terms:
1) Critical Success Factor (CSF) – these are the outcomes you are defining for your process, what you need to demonstrate you have achieved.
2) Key Performance Indicator (KPI) – KPIs define the specific measure used to support or underpin a CSF it has been aligned with.
3) Metric – a metric is an individual unit of measure aligned to a KPI.
In order to define a process measurement framework, we first want to look at the goals and objectives of our organization; we need to ensure that the measures we define at the process level align to the objectives our company is striving to achieve. We'll assume for the time being that IT is also aligned to the business goals. Here is an example of key corporate objectives taken from an annual report of a major manufacturing company:
Aggressively restructure to operate profitably at the current demand and changing model mix.

Accelerate development of new products our customers want and value.

Finance our plan and improve our balance sheet.

Work together effectively as one team, leveraging our global assets.
Once identified, the organization's objectives can be examined and we can determine how we could support the objective through the processes we are managing and begin to define the supporting measurement framework.
Let's look more closely at the second bullet – Accelerate development of new products our customers want and value. This looks like a good candidate for our Change Management process. The goal of Change Management is to manage the overall lifecycle of changes and ensure change is happening in controlled manner. Ensuring an effective change process should create an environment that is able to allow more change at an increased speed. If we are able to demonstrate the achievement of the Change Management goal and achieve this effect we can directly tie our process to the overall objective and the expected business outcome.
The following table provides a more detailed view of the potential alignment of a business outcome – Accelerate development of new products our customers want and value – and the management information Change Management can provide as support while still demonstrating its value.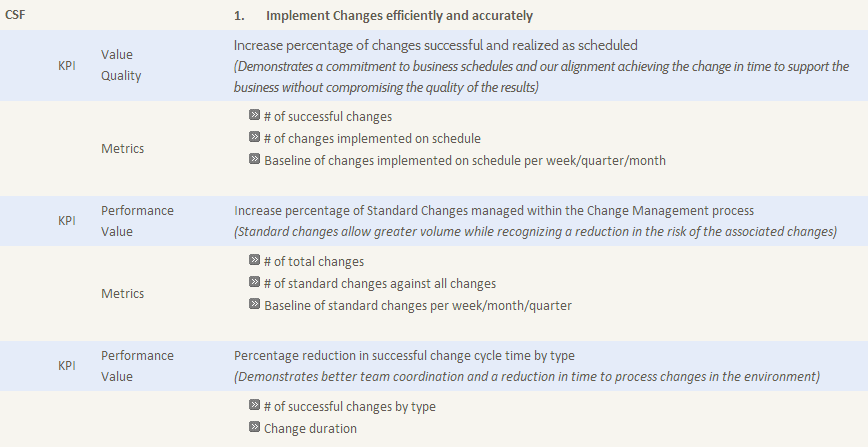 Let me know if you have any questions or share your comments with me directly at mbowles@obsglobal.com.Identifying an effective management information framework for your processes can take time, but the effort is worth it; and once you have established your methodology for determining the measures which are going to provide the best results, it will get easier. Remember though – business conditions are constantly changing and it is important that you build a review cycle to validate your framework on a regular basis to ensure it is still valid and aligned with current business outcomes.