Intro
A little over a year ago I was looking for a way to control the chaos that had become my job. I had taken on some responsibilities beyond my usual software delivery role and every day felt like a new opportunity for something to fall through the cracks. As a Scrum practitioner I understand how to control the chaos of delivering software, but I had the sense that it was only a matter of time before I let somebody down.
Around that same time, I found myself in a Q & A session at a conference when somebody asked the panel about the limits of Scrum and if it could be applied to anything other than software. A panelist mentioned something called The Pomodoro Technique, which, he said, was "kind of like Scrum for your life." I made a note to look it up when I got back to the office to see if it could help me deal with the new work piling up in my absence.
Pomodoro Technique and Scrum
What I found at http://www.pomodorotechnique.com/ was a deceptively simple system built on the same "plan-do-review" cycle that Scrum uses. It was devised by Italian university student Francesco Cirillo, who was facing a large amount of work and caught in a cycle of procrastination making his situation worse.
Grabbing the tools at hand -- a sheet of paper, a pencil and a kitchen timer in the shape of a tomato ("pomodoro" is Italian for tomato) – he proceeded to dig his way out by listing all his tasks in priority order, setting the timer for 25 minutes and working on the first task until the timer ran out. After making a checkmark next to the task to record a "pomodoro," he took a five-minute break. If at any time during his 25-minute work cycle he found himself doing something other than the task at hand, he would mark an interruption and reset the timer. After he completed four pomodoros, he would take a longer break – 15 minutes. At the end of the day, Cirillo crossed out the finished tasks and counted up the pomodoros so that he could track his progress and see if he could improve on the amount of work he got done each day.
I think Cirillo succeeded because he stumbled upon the same principles that Scrum did:
Focusing work
Inspecting and adapting
Providing value early and often
How I use Pomodoro
Activity Inventory
I enter all my tasks into an "Activity Inventory" worksheet in an Excel workbook. Each task gets its own line along with an estimate for how long that task will take. I try to break tasks down into smaller pieces that can be completed often. This uncovers more unknowns and focuses my attention on concrete deliverables rather than abstract concepts. Since I am often working on several initiatives at the same time, I also like to indicate which project to charge the tasks time to so that filling out my timesheets is easier.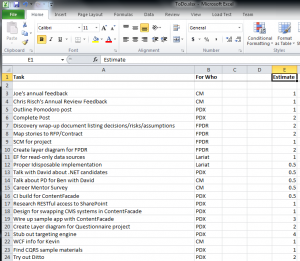 When Cirillo invented the Activity Inventory, he focused his attention on delivering the most valuable work early. This is akin to Scrum's Product Backlog where functionality is prioritized based on their value. Doing so allows the people doing the work to put aside any concerns other than completing their current commitments. Items further down the backlog (or inventory) can change or be re-prioritized without affecting the work at hand.
Plan
Each day I review my Activity Inventory along with any known "outages" that will prevent me from recording pomodoros, such as meetings. I copy items from the top of the Activity Inventory to fill up my remaining capacity for the day and add them to "Today's Activities" worksheet. This will be my working list for the day.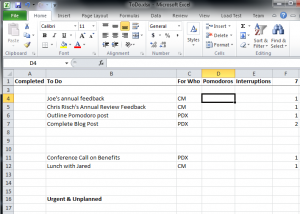 The list of "Today's Activities" is much like the Sprint Backlog in Scrum where a team commits to completing a set of work for during a time-boxed iteration. Again, this focuses a team (or in the case of The Pomodoro Technique – an individual) on the most valuable work and limits distraction. It also helps set expectations, my own as well as my colleagues', for what is going to get done.
Do
After my plan is in place, I start a timer and begin work on the first item. I record each complete pomodoro with an "X" in the Pomodoros column of my worksheet and take a break. If the task is complete, I enter a "Y" in the Completed column. When I get interrupted, I try to see if it can wait until the current pomodoro is over and add it to the list of Urgent & Unplanned tasks. If it can't, then I cancel the current pomodoro and add an "X" to the Interruptions column.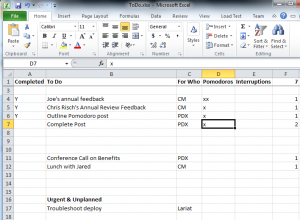 I've come to think of each pomodoro like a daily Scrum. It is a chance for me to evaluate where I'm at and what might prevent me from completing my commitments for the day.
Review
At the end of each day, I move all of the Completed tasks to a Records Sheet, converting the "X's" into a number. The data that I've accumulated lets me evaluate my overall productivity and has helped me quantify the cost of context switching.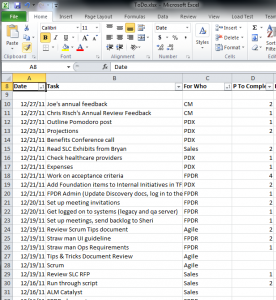 Each day, then, becomes a miniature retrospective like we conduct at the end of a Sprint. Having a record of the interruptions and added tasks helps me answer the questions we typically ask ourselves in Scrum: What went well? What went poorly? What will I do differently?
Limitations
There are limits to the Pomodoro Technique. Working at different client sites make it hard to record with any consistency. I get no credit for days filled with meetings, so the value of my work is not quantifiable in this technique's terms. Also, the 25-minute cycle recommended by Cirillo doesn't always fit into the natural rhythm of every individual performing every kind of task.
Despite these limitations, the practice of planning, doing and inspecting the work I do has helped me to keep from dropping too many balls. And if I do, I know it right away.
Tooling
There are a number of tools available that support the Pomodoro Technique. Tomighty (http://www.tomighty.org/) is a basic system tray timer that keeps track of when to take both short and long breaks.
Cherry Tomato (http://beatpoints.com/cherrytomato/) is also a timer that updates your IM clients with a status letting your colleagues know when you are in a pomodoro to help cut down on interruptions. It also has a pomodoro evaluator to help you assess your productivity by showing your process activity over the course of the previous 25 minutes.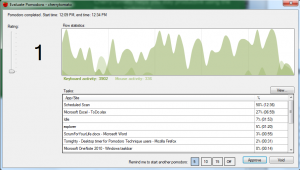 I am still looking for a good solution to the travelling problem and am thinking of developing a custom solution. If I do, you can be assured that I will be using the Pomoro Technique to keep me on track.