2011 was a monster year for social media, and there's no sign of slowing down in 2012. Twitter and Pinterest continue to experience massive growth, and Facebook's $5 billion IPO is just around the corner. Social media long ago transcended fad status, yet many businesses still haven't taken the plunge. More often than not, this reluctance is due to uncertainty on the right approach, so that's what we'll address with our five ways to ensure social media success for business.
Before we even get started, it's imperative that we understand the difference between each of the major social media outlets. With each platform comes a different purpose and culture, so your message needs to be tailored accordingly. Yes, there are opportunities to leverage your effort across multiple platforms, but it doesn't always make sense. Once you have a handle on what each platform offers, then we can begin.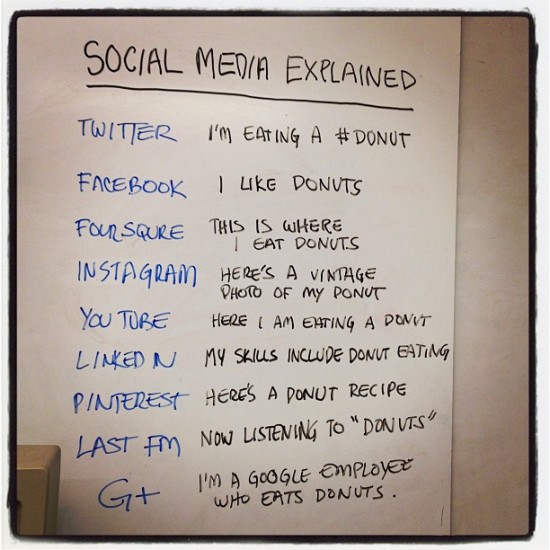 The above image explains the major social media platforms in terms of donuts.
1) Have a plan
As with most things in life, not having a social media plan is planning to fail. A Social Media Policy may seem like unnecessary work, but it will mitigate substantial risk moving forward, especially for the larger enterprise. Targeting appropriate social media channels and finding knowledgeable, motivated and trustworthy voices to represent the company ahead of time will make it easier to achieve the four remaining success factors.
2) Have a personality
Contrary to popular opinion, having a Social Media Policy doesn't preclude personality. Finding the balance between stuffy and unprofessional is a challenge, but necessary if you want to maintain an audience. Due to the interactive nature of the medium, your social media "voice" will go much further than your website in defining who you are as a company. Seize the opportunity to brand yourself accordingly, and you'll be rewarded with a larger, more engaged audience.
3) Be consistent
Once you start your social media initiative, be prepared to continue indefinitely. Throwing in the towel and leaving your social accounts dormant speaks volumes to your business approach. The frequency in which you share should be tailored to the platform, but the general rule of thumb is a minimum of one post per week for most channels, and one per day for more conversational platforms like Twitter. Don't forget that consistency doesn't only apply to frequency, but also to personality and content as well.
4) Be interactive
The single biggest mistake made in social media is forgetting the "Social" part. It's very easy to fall into old habits, but for the most part social media is not intended to be a broadcast medium. A good rule of thumb is that if a platform allows for comments, then be prepared to respond, even if the commentary is a complaint. Going back to point #2, if your social media account embodies who you are as a company, then engaging in conversation with potential customers and employees should be of the highest priority.
5) Provide value
If you're planning on finding your way into an individual's social network (which is oftentimes a very personal place), then you'll need to bring something to the table over and above marketing and self-promotion. Blogging and or content aggregation are a great mechanism for sharing relevant business information, yet all the while providing value to your potential customer. This doesn't permit advertising all together, but rather suggests that the ratio should be weighted on the value/content side.
These five factors alone don't guarantee a successful social media campaign, but they do serve as valuable reminders as you wade into the murky social media waters.