One of consulting's open secrets is that consultants know shortcuts. We have to. When we deal with the golden triangle (time-cost-quality), time and cost are typically the overwhelming winners.
Therefore, as consultants, our job is to find the right balance that brings as much quality to the table as possible within the project constraints.
As User Experience (UX) professionals, we know that one of the best ways to help ensure quality is to ensure that the application, website – whatever – uses User Centered Design (UCD) principles and practices. This sets the project up for success because the user is involved in the process from the beginning, and it's built around their expectations and goals.
Old School says…
Traditional UCD-based UX tasks are thorough and weighted toward "making sure." They tend to work well in a waterfall methodology because the model supports the "plan twice, execute once" philosophy.

I feel the need for Speed…
1. Agile and Lean Programming
A lot of organizations are adopting Agile, Extreme Programming, RUP, etc. as ways of shortening release cycles and reducing costs. This challenges UX practitioners – we've had to re-think how we integrate UCD in mini-cycles.
The motto here? Speed.
2. Innovation Economy
With the recent economic challenges, successful companies are those who partner with their customers to create the type of innovation that their customers want and need rather than doing more of the same old thing. This "freshening" of the business model requires that UX practitioners focus on facilitating innovation and co-creation. In this economy, companies live and die based on timing.
The motto? Speed.
3. New Platforms
UX practitioners typically use shortcuts based on what we already know. While the pool of knowledge about mobile users is growing, we still don't have the rich tribal knowledge for the various platforms that we did for desktop/laptop users. Because this is a new, exciting space to work in, lots of people are doing it. It's important for these businesses to be first AND best.
And we're focused on? You got it! Speed.
Running with Scissors
Because speed is one of the major themes in UX changes, our focus has been on adapting our processes to keep up.
How? The short answer is: Know the processes so you know where you can take shortcuts.
And, you're in good company. There are a number of talented people out there who are working through the same issues. Some of the biggest are:
Lean UX
This is one of the most exciting changes I've seen in UX in a while (since emotional design, in fact).
Jeff Gothelf has been really vocal about Lean UX and what that means. He's written a number of articles and blog posts recently about this, and has just released a book. In a nutshell, Lean UX puts the focus on designing great experiences rather than creating documents.
In Jeff's words:
The process in a nutshell? Do this every five days (Jeff's diagram):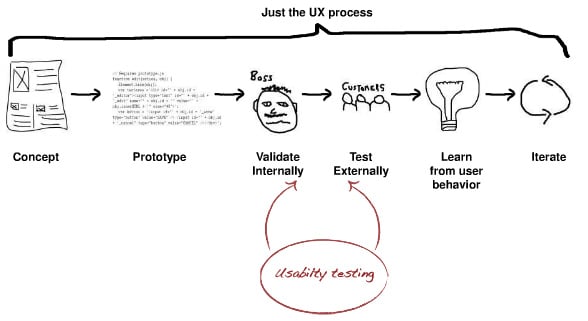 Because you're repeating this every five days, the failure points become clear really fast. You're constantly validating the designs, so the developers can have the confidence they need, and the entire process is transparent because the whole team is involved at various stages.
Jeff's links:
UX + Agile
Lean UX works great for Agile projects. There's a great case study from TheLadders.com.
There are other philosophies around including UX in Agile as well:
The bottom line for each of these philosophies is this:
Involve the user at all stages
Deliver prototypes
Simplify the process, lighten the tasks
Entrepreneurial UX
This is new. So far, at least, it's kind of a confluence between the upcoming generation's response to the economic crisis, social media, and the new generalists.
So far, it's mostly an idea (and a BUNCH of job postings) rather than anything formalized. A few organizations are aware of this and are attempting to incorporate it into their vision:
Fail Fast, but keep Moving
We can't wait to see how it's going to turn out, because our projects are due now. The best thing we can do is to move forward. One of UX's mottos is "Fail fast." We're a natural group to try new things and learn from our mistakes.
My advice is to do the best you can with the time and budget you have – negotiate. Be transparent about your goals and process. Don't stop.