As someone who has worked at Online Business Systems for six years, I'm still constantly reminded of just how smart my co-workers and fellow consultants are. Whether it's on client site, or at a discussion around the water cooler, I find myself learning new and interesting things from my peers on a daily basis. Nearly a year ago, Online launched its blogging initiative to help share this wealth of knowledge with people outside of the organization; but we decided that we could take it one step further by providing this terrific information to a mobile audience.
Last week, Online Business Systems submitted its "Tao of Online" mobile application to the Apple and Android app stores. The app will be fully supported on the iPhone, iPad and iPod Touch, as well as Android phone and tablet platforms. As soon as those apps are approved, an eReader format will also be made available for download.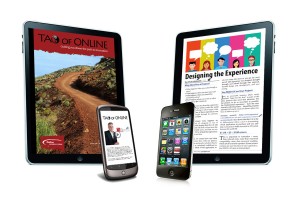 While Online is opting to use the eMagazine framework in one way, the same framework can be applied to a number of different types of content. Catalogs, newsletters, forms, pamphlets and other marketing materials can easily be translated into an interactive mobile "issue" in no time. If your organization has print content that you would like distributed across multiple mobile platforms, don't hesitate to contact us! We'd welcome the opportunity to leverage our existing solution to quickly help you meet your needs in a rapidly moving space. Furthermore, if the eMagazine framework doesn't quite meet your needs as it currently stands, we'd love to modify and enhance it until it's perfect for your organization.
Marshall McLuhan famously coined the phrase, "the medium is the message." For the Tao of Online, we like to think that not only is the medium the message… so is the message! This mobile app embodies two things that we're extremely proud of: our passion for new and exciting technology, and our desire to share our years of industry experience with others.
We're expecting the Tao of Online to be accepted and ready for download from both respective app stores within a week or two. Keep your eyes on the Online Business Systems Twitter feed, Facebook page, and website for the latest news about our mobile apps!