Over the years, while working on various projects, I have noticed that many of them do not put enough emphasis on employing User Centered Design (UCD) principles in the plan. Many projects are developed without considering how the user is impacted – as long as requirements are collected and the application is built to the business's needs. When UCD skill sets are incorporated into the project, there is a far greater chance of the project not only meeting the business's needs, but also the end user's.
To set up projects for success, it is important to involve both BA and UX skills since BAs and UX designers employ analysis and design thinking to bridge the gaps between business needs, user needs, and technology. BA and UX skill sets overlap more than they diverge. Typically, BAs are thought to have more of a business, or stakeholder, focus, while UX designers are thought to have more of a user focus. However, in practice, neither can work in a silo – BAs must think about user needs, and UX designers must consider business needs.
BA/UX Competencies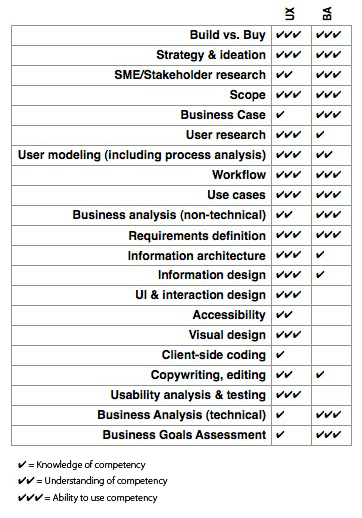 While not every consultant will have all of these competencies (see chart at the right), not every project will need all of them, or may need them in varied proportions. Depending on the consultant's competencies and how they apply them based on the needs of the project, a BA/UX practitioner may fall more to one side or the other of the continuum. However, they can both work on strategy, product definition, and requirements – which are all essential up-front activities for any software development project.
Each practice tends to have specialities that distinguish it from the other. BAs often specialize in requirements management or business process analysis and improvement. They may also write business cases, do data modeling or analysis, or perform detailed technical analysis. BAs may conduct deep analysis in one of these topic areas, while a UX designer's focus is usually broader. UX designers often specialize in user research and the creation of user models such as personas and scenarios. Interaction design and usability testing are also primarily the responsibility of the UX designers.
How can Employing Both BA and UX Skills Improve a Project?
When beginning a project, it is critical to have the right team assembled to do the job. A project may not succeed if the team doesn't have the right skills, and most software development projects need some level of BA/UX input. However, the skill level of a BA/UX consultant(s) can vary by the project size; not all projects require a highly skilled senior BA/UX consultant. There also are varying levels of engagement that may be appropriate – from a part-time BA/UX advisor who works with the project team, to having multiple BA and UX consultants on the team. Additionally, some projects may need more help on the BA side of the continuum and others may need more help on the UX side. However, it is important the BA and the UX consultant understand each other's skill sets and develop in the other discipline. This merging of skill sets between the BA and UX consultant will ensure the delivery of a quality application that meets the needs of both the business and the users.
To create useful and usable software and websites, the proven approach is to involve BA/UX practitioners from inception to completion of a project. Ideally, especially for large, enterprise-level projects, a BA/UX practitioner should be involved even prior to the project proposal to formulate or vet the project idea. They should be given enough time to do any research necessary to ensure that the project will meet business objectives and be helpful to its intended end users. This may, at times, result in changing the direction of a project, which can save the investment of time and money in the wrong project.