A common complaint in organizations is that people can't find stuff. We are at an interesting point in time because this problem can get significantly worse or significantly better.
How can it get worse? For one thing, if people don't have good tools for storing and retrieving information in a standardized, well-managed enterprise context, they will create own personal systems. We see this all the time: with email, local file folders and Dropbox to name a few. Information potentially useful to the enterprise at large becomes out of reach to the enterprise. And the explosion in quantity of information and proliferation of data types makes the problem harder, both qualitatively and quantitatively.
How can it get better? Findability can be improved by taking a broad analytical and design approach on many fronts, including users, information, and technology. This in itself is a breakthrough from the belief that faster and better search engines will solve all our findability problems. So, what would this approach include?
At the information and technology levels, we could start with the following framework.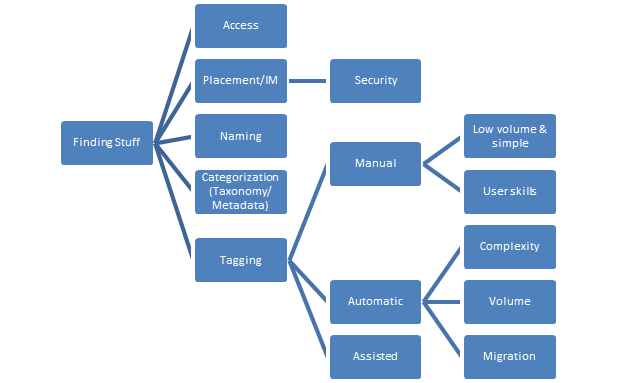 This gives us a structured approach for discussing findability issues and resolutions.
We might find search results missing obvious information, cluttered with old content, with weird titles, unexpected hits for a variety of amusing reasons (for example, documents with the phrase "a grain of truth" showing up in Agribusiness searches), or just too many search results to be useful. Our response to this analysis might involve modifying search scopes, archiving old stuff automatically, and providing guidelines on naming documents. And most likely, our response will involve classifying content through metadata and taxonomies so that it can be retrieved, grouped or filtered in useful ways.
The last few years have given us significant insights in how to utilize metadata and taxonomies. We particularly note that there are different patterns of metadata (from multiple simple facets to complex industry specific schemes), that metadata doesn't have to be complex to be useful, and that not everything needs equal attention as far as metadata is concerned. These allow us to help an organization benefit from metadata and taxonomies with a phased way.
Accurate classification of content is crucial, and there are a variety of ways of reducing manual effort and hence increasing reliability. If new content is being entered through a platform such as SharePoint, we can design the solution so that metadata is applied based on the type of content being created or the user or both. If documents already exist in libraries or file shares, there are auto-tagging tools to apply metadata based on the content of the documents, according to rules you create and refine.
Where does the user fit into all of this? Once again, there are several dimensions.
Not content to listen to an interviewee tell us that "search sucks," we dig deep to find out what they were trying to find that they couldn't, what they hoped for and what they got, and the consequences of not getting what they hoped for. We might find a junior staff member uncomfortable at having to approach her boss for information that she couldn't find, and the boss frustrated with IT for not letting people find what they need.
In addition, we recognize that users perform searches for different reasons. Consider for example the following:
What's the weather in Calgary this weekend?
How do I fix my home office printer which is blinking with a certain pattern of flashes?
What do I need to do improve findability in my organization?
These are completely different in many ways, including ease of fulfillment, open- or closed-ended goals, and whether I am dealing primarily with facts, actions, or knowledge.
Understanding the different qualities of search opens us to the possibility of different types of search interface and experience.
Where to go from here? Improving findability should be considered a multi-faceted program. It can be delivered incrementally and its demonstrated success will encourage ongoing buy-in and adoption, delivering significant business benefits at both the enterprise and employee level.