Do I Really Need a Business Case?
A completely legitimate answer to this question is "no"….BUT only if you have a lot of time, money, and people - and a desire to waste all three!
A business case:
Makes one think more carefully about a future initiative
Helps ensure an organization is undertaking an initiative that will add value
Sets the parameters for the initiative
A business case, at the very least, makes one think more carefully about a future initiative. At its best, a business case helps ensure an organization is undertaking an initiative that will add value, which includes being in alignment with organizational goals.
Another benefit of writing a business case is that it sets the parameters for the initiative, which then feed into the project planning process making it easier for the project sponsor and project manager to move the initiative forward.
The great news is that a business case does not have to be a 30-page document; it can be as short as a few pages - scaled to a size that reflects the initiative being considered. The bad news is that very few organizations are doing business cases for their initiatives. While statistics are difficult to find, my own personal experience has shown that less than 20% of initiatives have associated business cases. In this blog, I will briefly point out the difference between a business case and a business plan, and then explain the key parts of a business case.
Business Case vs. Business Plan
Some might confuse a business case with a business plan. The easiest way to describe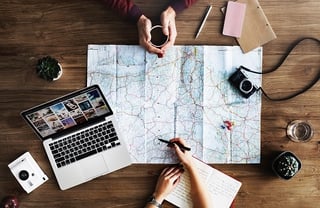 a business case is that it is the justification for undertaking a particular initiative and includes some basic "how-to" information. A business plan is a much larger document written when a new organization or division is to be formed, or when an existing organization or division is to be changed significantly. A business plan contains mini-plans describing how each of marketing, human resources, operations, finance, etc. will be affected by the change (in the case of a change to an existing organization or division), and how each will operate in the future state. Think of it as a comprehensive guide to the future state.
Would you ever have both a business case and a business plan related to the same initiative? Sure. The business case could have been written to justify the change, and the business plan would have been written to describe, in-depth, the future state operations including a more detailed examination of the benefits outlined in the business case.
What's in a Business Case?
Include the following sections in your business case and you will be well on your way to success:
Background
The problem or opportunity including metrics (current values)
Options including metrics (estimated or projected values), assumptions, and risks
The recommended option
Background
The background is easy to write. Describe what conditions led you to where you are right now. Take Company XYZ for example:
Sales for our innovative storage containers have been relatively flat for some time due to the high levels of market penetration here in Canada. Prior to today, selling our products into the American market was not a consideration due to competitive pricing for similar products in the United States as well as the relatively small gap between the Canadian and American dollars. This is unfortunate because research has shown that Americans love products similar to ours. In addition, we are a high volume, low margin business, and the American market is very large.
Problem or Opportunity
Once the background has been written, it flows nicely into the problem or opportunity section. This is where one describes the nature of the initiative, keeping in-mind that specific details will be presented in the options section. Building upon our Company XYZ example above:
Oil over the last few years has decreased dramatically in price which has led to a drop in the value of the Canadian dollar. A low Canadian dollar makes for cheaper prices to American consumers. This means that our products can be marketed and sold to American markets that would have otherwise not considered buying our Canadian products due to duties and shipping costs. This will allow us to increase revenue (currently expected to be $1.6 million for 2018 without the initiative) and brand awareness in a key market that we want to break into.
Options
For each option, explain how the organization's resources will be used to achieve the desired result. Be realistic in your options and metrics because this is the one area where most business cases fall flat. Don't include options that clearly no one would choose, and don't gloss over the metrics just to get an option approved.
How does one mitigate the risk of being too optimistic or pessimistic? By doing the following:
Perform sensitivity analysis on the metrics (i.e. have pessimistic, likely, and optimistic scenarios)
Associate probabilities with the metrics for all three scenarios (e.g. there is a .15 probability of a pessimistic outcome)
Briefly explain what conditions would need to exist for each of the three scenarios
Metrics can include cost-benefit analysis, cost-effectiveness analysis (what does each dollar spent yield), Net Present Value (NPV), Return on Investment (ROI), and payback. While quantifying the benefit in cost-benefit analysis can sometimes be difficult to do, particularly when it relates to the impacts of programs on people, cost-effectiveness analysis may be easier and can provide useful metrics (e.g. "Prior to the initiative, it would have cost us $12,000 to provide a medical procedure. With option two, we can provide the procedure for $9,000."). Remember to include assumptions and risks.
The Recommendation
This section is where an option is recommended, and a brief explanation of why is provided. This section needs to tie back to the problem or opportunity, and can be as short as a paragraph.
Mandatory Initiatives
I've occasionally heard stakeholders say, "We need to do the project because of regulatory changes so there's no point in doing a business case." If an organization has to undertake an initiative because of regulatory requirements, is there really any value in doing a business case? YES! A business case still makes sense because there might be multiple ways to meet the changing requirements, but only one good way for your organization.
Evaluate the Accuracy of the Business Case
After the business case has been written, the initiative undertaken, and an appropriate amount of time passed as per the business case, it is time to compare the actual outcome with what was written in the business case. Was there very little variance? If that's the case, remember what you did. If there was a material variance, determine why and apply what you learned to the next business case. The more business cases you write, the more skilled you will become.
What Should You Do?
As a consultant for Online, almost all of the work I do for clients involves undertaking some kind of initiative – and the value of a business case is clear. In the PRINCE2 project management methodology, the business case is not a document that is created at the start of a project and then put on a shelf; it is referred back to periodically to ensure continued business justification for the project. It is that important of a document!
Do your organization a favour and push for a business case when an initiative is being considered. As you can see from above, creating a business case demonstrates due diligence, it doesn't have to take long, and it can save your organization from embarrassment and financial pain. If you need help getting a head start on your business case, or just have some questions, feel free to leave a comment below!
You can learn more about Online's Business Consulting practice here.