Why are so many companies looking to integrate AI into their day-to-day business processes?

While some people have concerns that AI is being used to reduce the number of workers, the reality is that AI can be used to drive efficiency and raise productivity. By assigning high-frequency, repeatable business activities to robotic processes, organizations are able to focus more time and attention on higher level activities.
Gartner recently took a look at how various AI platforms have affected the financial industry since the start of it's acceptance into the workforce. It won't likely come as a surprise to anyone that in this latest news release Gartner is predicting a strong forecast for ongoing AI adoption in Finance:
A majority of finance departments expect to deploy one of several top emerging technologies by 2020, according to a worldwide survey of more than 400 organizations by Gartner, Inc.
Predictive Analytics are on the Horizon
Machine learning is not a new concept; today many organizations routinely leverage some form of machine learning, and it's commonly expected that adoption of machine learning will continue to grow as more applications are made available.
"More than a quarter of organizations surveyed expect to deploy some form of artificial intelligence (AI) or machine learning in their finance department by 2020," said Christopher Iervolino, senior director analyst at Gartner. "Moreover, half the respondents expect to deploy predictive analytics in the same period."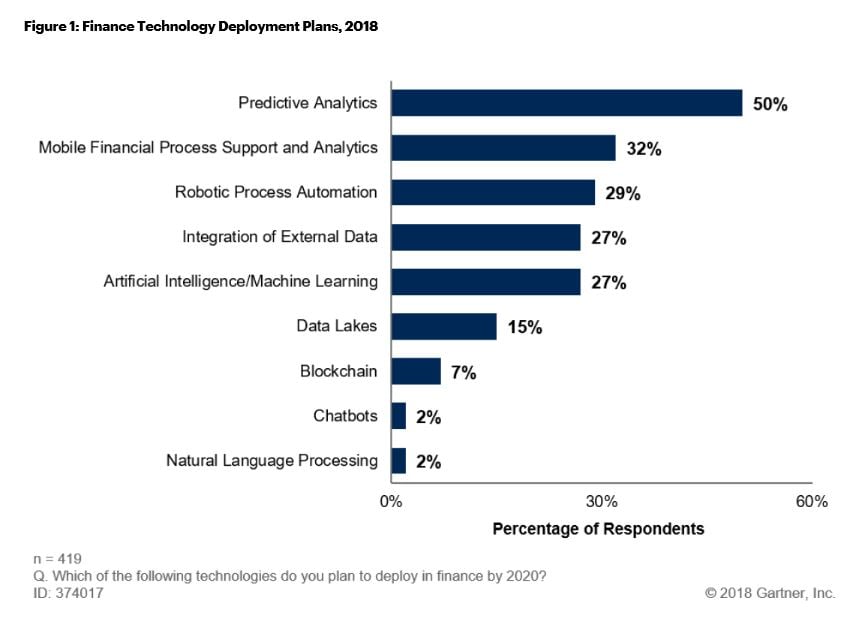 But does it help? Our CFO's perspective:
We sat down with these findings and shared them with our CFO, Lynne Black to get her thoughts on how Online's Finance team is looking at AI.
"As thought leaders in the industry Online is always looking for ways to reduce costs and improve efficiencies. The timing of this press release from Gartner is interesting.

We recently started an internal project using robotics process automation (RPA) software to streamline some of our accounts receivable processes. Our team is using a RPA software tool designed to replicate user interactions with computer software and is applying it to the invoice entry process that has multiple manual steps, involving multiple programs, and has rules-based decisions using digital data.

While we are just in the early stages, the team plans to develop a bot that reads invoices in various formats and enters the data into our accounting software. There are elements of AI in RPA (such as advanced OCR, or Text Analysis), and we see RPA as an approach to increase timeliness, decrease errors, and free up our Onliners to do more value-added work.

A critical first step for us was to ensure that the data we needed for analysis was clean and correct. Based on this verified data, we are also now in a position to start developing AI based systems for predictive analysis.

On the Forecasting and Planning side, it is something that we have already been interested in, but have not been looking at specific tools just yet.

We see significant potential for machine learning on our team, and we know that many other Finance Departments are either actively investigating or already implementing similar AI related initiatives."
Are you aware of the specific benefits that AI can provide for your organization?
There are a many reasons to consider using AI in Finance - here are a few to consider:
For companies with high-volumes of data collection and processing AI can be use to execute tasks with little-to-no distinguishable variation is a game changer. These bots provide a consistent, dependable and accurate alternative to human led processes.


Critical regulatory guidelines can be implemented and managed through pre-programmed processes providing a detailed audit trail history.
AI technology can be integrated seamlessly with the existing programs so there is no disruption to legacy systems.
Other reasons include improved staff morale, increased customer satisfaction, and improvements to the company's bottom line. It's a long list - and one worth exploring.
Are you looking at practical adoptions of AI in your organization? Feel free to reach out to Lynne Black - she would love to tell you more about her experience and connect you with other members of our team.