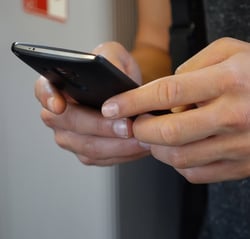 Do you have online tools or information that would help your customers if only they knew about, or thought about them? Would it be easier to deal with customer communications over chat and email while your workers are remote? Do you need a "circuit breaker" when calls get out of hand?
SMS is a great way to communicate links to specific online resources instead of just playing a message telling customers to navigate a website. We have techniques for adding SMS send options to Interactive Voice Response (IVR) systems, auto-attendants, or corporate voicemail boxes. We can work with your existing call flow to try to offload some of your existing call volume, or establish an SMS enabled emergency interceptor to help you move all your phone traffic to other channels.
SMS options can be implemented in a matter of hours after meeting with you to make sure your existing equipment will support a simple transfer to an SMS enabled gateway.