Conversational AI – Rapid Response Solutions for Today's Businesses
Managing your overwhelmed teams as they respond to an influx of inquiries, field questions and manage new expectations remotely, can be challenging.
In this webinar, Online Business Systems will be hosting Scott McCrea, Chief Technology Officer from Datomar Labs as he will be reviewing key examples of Conversational AI's ability to solve today's business challenges.
Scott will also share strategies for implementing these rapid solutions across multiple areas of today's organizations in order to meet the current needs of businesses.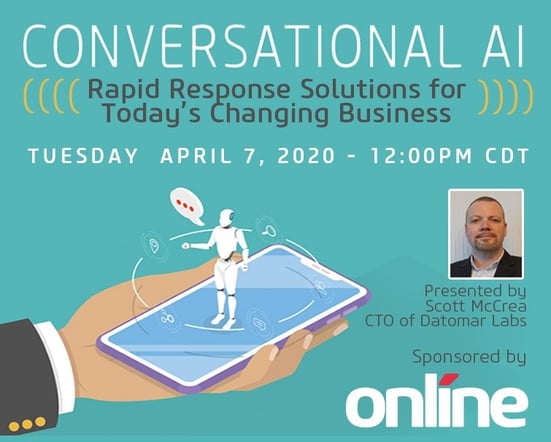 Date:

April 7, 2020
Time:

12:00pm CDT
---
ABOUT THIS WEBINAR
In this short but intensive 45-minute webinar, you'll learn:
How quickly Conversational AI can be deployed to deliver self-service solutions
How to put your FAQ's and knowledge base to work to save your staff time on routine inquiries
How to setup and optimize your self-learning conversational AI experience
What business outcomes you can expect from a conversation powered by AI
Who should attend:
IT leaders and managers who are looking for self-service solutions to streamline internal and external communication channels and reduce time spent on routine workload.