In a world increasingly driven by digital innovation, Dreamforce 2023 positioned itself as the cornerstone of technological advancements, particularly in the domain of Artificial Intelligence (AI). The event unfolded a canvas of insights, offering a clear view of the present and an open door to the future. Let's discuss the key 8 takeaways that resonated with myself, industry professionals and enthusiasts alike.
Table of Contents
1. AI as an Inclusive Tool:
Dreamforce 2023 placed AI at the center of inclusivity. It is not just another technological advancement but a revolution in making the world more accessible. One highlight of the conference was the emphasis on AI's potential to engage and empower those with disabilities, a segment that constitutes roughly 20% of the global population. The integration of AI tools into the daily lives of this segment promises a world where everyone has an equal opportunity. From voice-assisted technologies to mobility innovations, AI stands to redefine how we perceive disability and accessibility.


2. Responsible AI Governance:
One cannot mention AI without addressing the elephant in the room - its governance. With the rapid advancements in AI capabilities, there's a compelling need for frameworks that ensure its ethical use. Dreamforce 2023 served as a platform for Salesforce and industry leaders to discuss and debate the future trajectory of AI. The consensus? The journey ahead should be marked with innovation, trust, and, most crucially, responsible governance.
At Online, we work on the premise of providing guaranteed results securely, aligning with the very principles that were championed at Dreamforce. The sessions provided valuable insights into balancing the promise of AI with the challenges it brings, especially in terms of privacy and autonomy.


3. Aligning AI with ESG Goals:
A standout aspect of Dreamforce was the focus on AI strategies with regards to Environmental, Social, and Governance (ESG). Many of the AI innovations showcased how AI can be used for good. In an era marked by climate change and social upheavals, it's not enough for technologies to be innovative; they must also be responsible. AI tools, when crafted with an ESG focus, can drive sustainable development and positive social impact.


Learn More About Our Salesforce Consulting Solutions
4. Salesforce's Stand on Data Privacy
In an age where data is the new gold, its protection is of paramount importance. Salesforce's announcement of the Einstein Trust layer was a testament to this. This innovative layer ensures that private data remains shielded from Large Language Models (LLM), thus championing the cause for data privacy. This feature underscores Salesforce's commitment to prioritize user trust and security in all its advancements.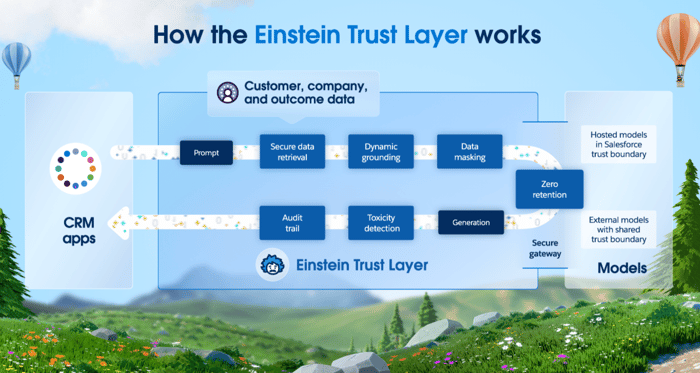 5. The Salesforce

Data Cloud

Revolution:
Beyond privacy, data utilization stood out as a significant theme. Salesforce's Data Cloud promises a paradigm shift in how businesses approach customer insights. With the ability to bring vast swathes of data under a unified, secure environment, it heralds a new era of automation, AI-driven insights, and hyper-personalization. The discussions around Data Cloud highlighted its potential in crafting richer, more meaningful customer experiences.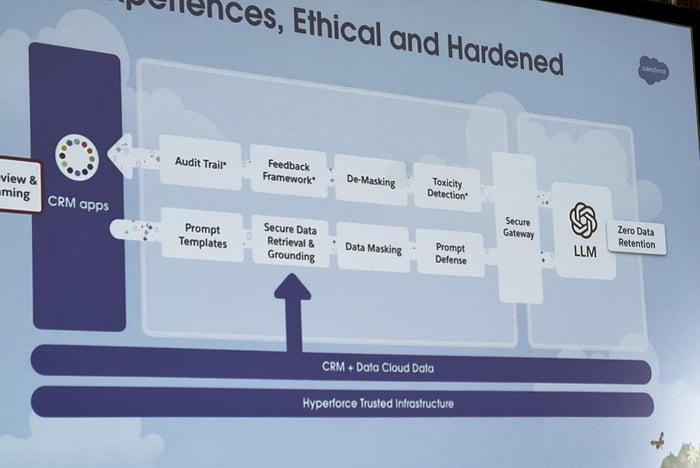 6. Einstein Copilot - The Game Changer:
No recap of Dreamforce 2023 would be complete without delving into Einstein Copilot. Touted as the next big thing in AI-powered interactions for Salesforce, Copilot is designed to help users maximize productivity from Salesforce. It promises to revolutionize how users get work done by making natural language assistance available in every Salesforce application. Copilot will be used for improved customer interactions and broader customer relations with its GPT capabilities. The platform is set to redefine how businesses engage with their audiences, offering real-time insights, predictions, and support like never before.


7. Salesforce's Practical AI Applications:
Amidst the talks of potential and future, Dreamforce ensured a grounding in the present. The event showcased tangible, real-world applications of AI. The collaboration between our CX partner, Genesys CX and Salesforce was just one of the examples. Their integrated solutions leveraging predictive AI for optimal call routing and conversational AI for interaction summaries demonstrated the immediate benefits of AI integration.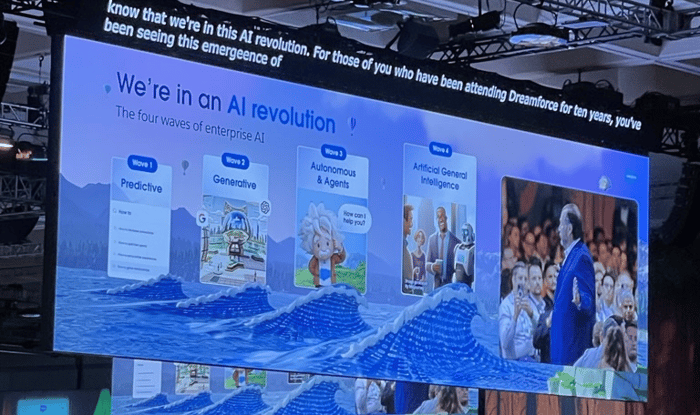 8. Salesforce Championing ESG:
Beyond AI, Dreamforce 2023 had a recurrent theme - sustainability. The term Ecoprenuerial was used to describe the initiatives by new organizations to use AI for environmental benefits. Companies like Pano.ai, Pachama, Treeswift and Ellipsis are forging the path. Google's Chief Sustainability Officer outlined ways that Google is looking to leverage AI to help reduce the impact of home energy and transportation from Google employees and then have the knowledge shared with the larger community in ways like highlighting eco choices in Google Maps.
Not part of the conference but announced in the same week was Apple's sustainability initiatives. The new Ultra watch is now a carbon-neutral product! Check out Apple's sustainability report. Such innovations underscore the industry shift towards sustainability, echoing the sentiment that the future of business isn't just profit-driven; it's green, responsible, and socially conscious!
In conclusion, Dreamforce 2023 was not just an event; it was an experience. It painted a picture of a future where technology, humanity, and ethics meet to create a world of endless possibilities.
If you're ready to transform your business with Salesforce and harness these insights, contact us today or check out our Salesforce Consulting Solutions.