In a previous post we looked at Four Steps to Implementing Robotic Process Automation (RPA). Today we will take a closer look at the first of those steps, Identify Processes, and look at how you can maximize your RPA investment by selecting high impact processes that deliver immediate ROI.

Set the Vision
Prior to embarking on your automation journey, you need to create consensus around what you want to achieve, both goals and outcomes. Setting a well-articulated vision helps avoid the pitfall of 'change for change sake' and ensures the selected processes generate both a financial benefit, and a strategic advantage for the business. In our conversation with RPA adopters, these visions can be diverse:
Generating immediate cost savings to free up opex for more extensive initiatives.


Coping with the attrition of high value senior staff through systemizing core processes.


Creating an agile organization to adapt to a changing technology environment.


Differentiating itself with a more rapid, streamlined customer experience.


Supporting organizational visibility and advanced analytics through data capture.
While the strategic imperative varies, successful adopters recognize the critical value of its existing employees and envisions a division of labour that elicits the best for its human and robotic workforce, by catering to their respective strengths.
Create the Automation Backlog
Once a vision is set, organizations should cast a wide net identifying all possible candidate processes in an automation backlog. This backlog serves as a catalogue for future investigation and is not intended to be detailed.
For each identified process we recommend asking general questions such as; Who works on the process? Where is the work performed? Who are the key contacts to investigate further?
Our experience is that senior management is wellspring of automation ideas. You also want to drill down further into the organization where others often identify problem processes unseen from management.
To identify candidate processes, our RPA team often use two different methods: process mining and facilitated workshops.
1. Process Mining
Process mining is the application of identifying data mining techniques to discover, document, and monitor business processes. Process mining pulls in every event and activity data generated by enterprise applications and produces visual maps and metrics of the flow of work through an organization. Given requisite data, it is invariably the logical first step in process discovery and provides a definitive 'as is' picture of the organization to guide future discussions.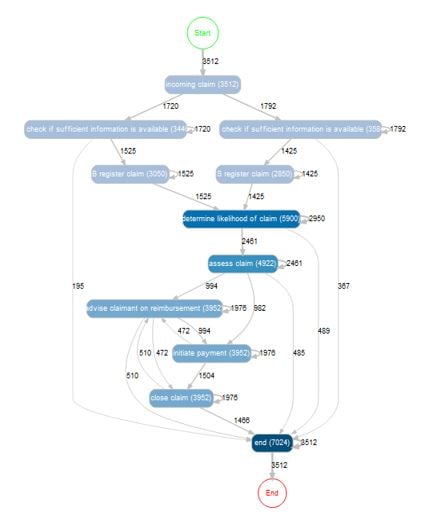 2. Facilitated Workshops
Where process mining can provide an objective map of the business, working directly with front line staff provides an invaluable "ground-level" perspective of the key challenges not possible with a top-down approach. Facilitated brainstorming workshops with experienced staff are an excellent method to get this perspective. These workshops should begin by revisting the automation vision developed earlier and providing a primer on the RPA technology, its limitations and success stories of how it has been deployed elsewhere.
While organizations may be apprehensive to broach the topic of automation with a wide audience, engaging staff at this stage is an excellent change management strategy to avoid organizational pushback at implementation.
Prioritize for Maximum ROI
Shortlist on Strategic Alignment
Once a backlog of automation opportunities has been developed, a shortlist of high potential candidates needs to be developed. Referencing the documented vision and objectives, a team should select the top dozen automation opportunities that have an opportunity to meet the objectives. This shortlist will be investigated further for prioritization.
Assess Automation Complexity
Next, the relative complexity of the shortlisted processes need to be assessed. A shorthand scoring system (e.g. a score of 1-10) should be developed within the organization and consider several factors for the assessment:
Availability and quality of existing process documentation, if any
The amount of discretionary decision making
The number of steps or activities composing the process
The applications to be used in the automation
| | |
| --- | --- |
| Process | Complexity (out of 10) |
| Process A | 8 |
| Process B | 5 |
| Process C | 2 |
Identify Business Value
Similarly, a relative score should be developed to assess business value. For each of the objectives identified at your visioning stage, assess how far the initiative would advance the organization towards the goal. This score will be a weighted aggregate of scores aligned to the objectives from the automation vision.
| | | | | |
| --- | --- | --- | --- | --- |
| Process | FTE Savings | Customer Experience | Throughout | Total |
| Weighting | 50% | 30% | 20% | 100% |
| Process A | 5 | 10 | 5 | 6.5 |
| Process B | 2 | 4 | 6 | 3.4 |
| Process C | 4 | 3 | 1 | 3.1 |
In assessing the business value of an RPA initiative, consider that it is rare that a process can by automated in its entirety. In practice, most automations will require human assistance for edge cases or highly complex decision making. This is typically handled through a routing of work to a human work queue by the deployed bot. These initiatives are still worthwhile, but their estimated value should be discounted by the amount of human intervention anticipated.
Prioritize
Value and complexity should be compared to create a prioritized backlog. The highest scoring processes should be prioritized for automation first in your backlog.
Objectives

Aggregate Business Value

Costs

Aggregate Cost

Process

FTE Savings

Customer Experience

Throughout

Automation Complexity

Redesign and Change Mgmt

Weighting

50%

30%

20%

50%

50%

Process A

5

10

5

6.5

4

9

6.5

Process B

7

5

6

6.2

3

4

3.5

Process C

3

3

1

2.6

2

3

2.5
Now What? Continuous Review
The automation backlog should be a living document, continuously expanded, elaborated, and prioritized. New processes can be added based on staff or data insights. Complexity should be reassessed as knowledge is gained from each RPA implementation. Business value should be refactored as the business context changes, and processes should move up and down the backlog considering these new scorings.
The top of the pile should be automated as resources permit, gradually expanding the automation portfolio, resulting in a continuously improving organization; gradually working towards a harmonized vision of human and machine.
Did you find this blog useful? Do you have questions regarding RPA for YOUR organization? We want to hear from you!