A lot has been said and written about the importance of "Employee Recognition," but we don't hear too much on the topic of "Employer Recognition."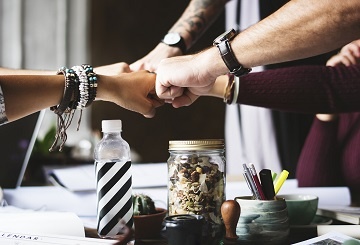 Eleven years ago, we learned of an Employer Recognition program called Best Workplaces in Canada. An organization called Great Place to Work evaluates companies on five disciplines – Pride, Camaraderie, Credibility, Respect, and Fairness – and creates Top 50 lists (by country and company size). What appealed to us about this program was that 67% of a company's overall score is determined by the company's employees through an anonymous survey.
The other 33% is based on a Culture Audit prepared by the company. Bottom line, if the team isn't happy, the company doesn't make the list. This appeared more credible than many other Employer Recognition programs and we believed it would help us validate where we were doing things right.
Fast forward 11 years, and we are proud to have made this list every one of those years. Each year, the employee survey has highlighted what we continue to do well, where we have made advances, and where we still need to improve. We never take it for granted that we have made the list, nor do we assume that we will make the list in the future.
Glassdoor is another tool that provides employers with insights into what their team members and former team members are thinking. All reviews are anonymous so submitters tend to be very honest and open. More and more job seekers are referring to Glassdoor reviews when they want to check an employer out. It provides great transparency to the job seeker and, just as important, it provides companies with insights into what they are doing right and where they can improve. As part of the reviews, submitters also score companies out of 5 and provide an approval rating for their CEO's. We watch our scores very closely and value the feedback.
So, why are these programs important?
Employee pride: Everyone wants to work for a company that is highly regarded in the marketplace. These Employer Recognition programs provide that validation and team members take pride in working for a company that scores well.
Trends: Both these programs provide a snapshot of how you are trending relative to your previous scores and your competitors. This speaks to a company's health from the perspective of the people who work there.
Recruiting: Social media makes it easier than ever for potential new hires to discover both the pros and the cons of working for a company. Job seekers are checking out potential employers much more closely now before they take the leap. They want to hear from the people who work there and see how they score the company. And they also want to see how employers respond to negative feedback. As an employer, it's hard to read it, but it's extremely important to respond to it and learn from it.
Business success: Clients are also checking out how companies score or rank in these programs. Existing clients can feel reassured that they are dealing with a company that treats their team members well, and it can also be a differentiator when speaking with new clients.
Employee perspective: These programs provide insights on what an employer is doing well and where they can improve. This is extremely valuable information and employers must take it to heart and consider how they address areas for development.
Why do some employers fare better than others in Employer Recognition programs?
They create an environment where their people can thrive, are encouraged to learn and collaborate, and feel valued and respected.
They listen to their teams. They want to hear their ideas, their concerns, and their accolades. They take to heart the feedback they receive from Glassdoor and programs like Best Workplaces in Canada and act on it where necessary.
They live their core values. Actions speak louder than words and every employee is on the hook for this – or they shouldn't be there.
It sounds simple, but it takes work. Sometimes you get it right and other times you don't, but you never give up trying to be the best workplace that you can possibly be. Everyone benefits when team members are engaged. That's the real importance and value of Employer Recognition programs.
To learn more about working at Online, feel free to visit our Careers and Glassdoor pages.