Technology enables all kinds of great things. It has changed the way we communicate, the way we shop and how we conduct business. Most companies today are keen to adopt new technology, but find the path to implementing and integrating them littered with all kinds of challenges – the people kind of challenges, but also getting the existing processes and technologies to work together.
I had the opportunity to work with a firm that was doing all of the right stuff. They had a strong culture and optimized processes. Quality was very important to them, and they had done the work to implement robust quality assurance and quality control processes achieving both ISO 9001:2008 certification, and then later ISO 9001:2015 certification.
The projects they worked on had no room for errors, were typically delivered over multiple years, and were only invoiced on completion. i.e. all project costs would be incurred before any invoicing.
---
When you Can't see What is Happening: The Challenge
Their business model required they get it right, the first time. And they had a recurring challenge. They had a hard time evaluating the performance of projects in flight firm. It took weeks to determine how a project was doing against a set of standard project KPIs. The data they needed for these KPIs was buried in operating reports, progress reports, quality assurance/control, leakage project costs, and revenue that was tracked in a number of disparate records stored in spreadsheets or forms.
Even more concerning, was the delay that having this data readily available caused. Issues were left undetected and unresolved, routinely putting projects at risk.
Getting the Technology to Work
Not being able to easily see the health of projects is not a new problem, but it is a common one. I want to share a few keys for how you can leverage Salesforce to increase not just the visibility of your projects, but monitor their KPIs – in real-time.
Start with the right tool. In this case, I wholeheartedly recommend Salesforce. You don't have to make a massive investment to get started but you do have to get started.

Leverage Salesforce Platform. This is how you can easily, without needing to write code, configure your setup to implement bespoke business processes directly in Salesforce.

Use Reports and Dashboards. This is where Salesforce really begins to separate itself from other similar solutions. You can easily transform your data into meaningful business intelligence that will allow your business to quickly make decisions.

Other Salesforce Clouds or AppExchange. Sometimes it is smart to not reinvent the wheel. This is where the other Salesforce Clouds, or something more specialized from the AppExchange, can come into play. These pre-built solutions are added seamlessly to a setup.
The solution for the business combined all these four items. A number of custom objects were created to support the Project Managers, as well as their customers, to view real-time project information via reports and dashboards. Technicians working on the project would enter attainment figures and reference client requirement records via this tool. Customers, via Experience Cloud, could log in to see the progress of their projects.
There were also two managed packages integrated into the solution:
A time and expense solution that provided real-time project cost tracking and payroll outputs. This solution allowed users to charge time & expenses to billable or overhead projects. The output from this entry had overtime calculations performed as well as other payroll required calculations.

An asset management solution to mitigate risk from loss of utilization for a fleet of survey vehicles. A survey vehicle (asset) would retain a history of its critical parts, components, critical safety checks and work order history. The preventative maintenance function of this would automatically issue work orders once certain usage milestones were met.
Overall, the solution allowed the business to solve its costly problem of measuring, but most importantly, achieved a turn-key solution that provided real-time business intelligence allowing it to rapidly adjust to any project challenge that may arise and achieve its client obligations.
In the end, if you have complicated projects or simply want more visibility into the health of your projects, I'd start by taking a good look at Salesforce. If you're using Salesforce already you might be closer than you think to having a robust solution that can help you truly manage your projects in a way that actually drives your business forward.
We are proud to be a Registered Salesforce Consulting partner! To learn more about Salesforce services with Online, click here.
---
About Brock Newitt, Salesforce Consultant, Digital Transformation: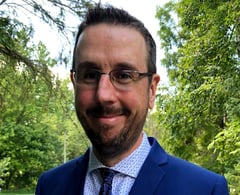 Brock is a seasoned Salesforce pro with over 15 years of extensive IT project management, and over 10 years of Salesforce designing, development, and implementation.
He is passionate about maximizing the value of business processes using Salesforce as a platform. Do you have concerns about the value your processes are delivering?
Brock is your guy!
His advanced communication abilities and interpersonal experience with both large and small organizations are sure to provide value to any team looking to maximize the benefits of Salesforce.
Contact Brock today with any questions you may have.