70% is a staggering number isn't it? Why is this the case?
Changing Customer Expectations
Today's customers are expecting more and more from their interactions with your brand. When it comes to customer relationship management, it's really all about the experience. In the end it's about enriching the relationship with your customers by tuning into new standards of personalization; one that tailors each interaction to each customer. It requires a shift in our thinking and recognizing that experience is no longer defined by a service — it's much broader than that and encompasses how customers are marketed to, sold to, and re-engaged. It requires a 360° view.
The enrichment of the overall customer experience also has to include your interactions with your customer service employees and how they support your customers. These emerging technologies can streamline inquires for contact centers as well, improving their ability to provide a better service experience for the consumers, and truly drive improvement for their own experiences at the workplace.
Theory and practice are two very different things. Understanding the shift that has occurred around the customer experience is one thing; effectively embracing and capitalizing on solutions to support it, is another. Successful companies are looking for innovative ways to respond.
Where Should you Start?
The Customer Journey. The journey with your customers starts long before the first formal interaction. How your brand, in turn, interacts with them, way will define the rest of your journey together.
Personalization is a vital element to the CX journey, because consumers want to be addressed and assisted based on their unique needs and personal identities opposed to generalized communications.
In its annual analysis of the CRM software market, Gartner took an interesting turn on this topic in 2018. In addition to reporting strong growth in technologies and applications that power great customer experiences, Gartner introduced a new category called "Customer experience and relationship management (CERM)." CERM signals the convergence of CRM and customer experience markets. It's a dynamic driven by the need for a single view of the entire customer journey to optimize customer service and support.
All the Moving Parts
Establishing the connectivity between the CX and CRM markets is just part of why this unified and valuable concept is gaining momentum.
What we see are three unique perspectives, customers, employees, and business owners, being driven by various technologies to effectively respond to today's rising expectations. These perspectives provide a macro-view of the customer journey, as well as acknowledgement of how all the moving parts optimize the entire process.
For multifaceted results to be realized, there must be a multifaceted input of activities occurring, via an integrated combination of digital tools such as AI, robotic process automation, bots, reminders, anticipated tasks, machine learning, calendar events, and intelligent routing.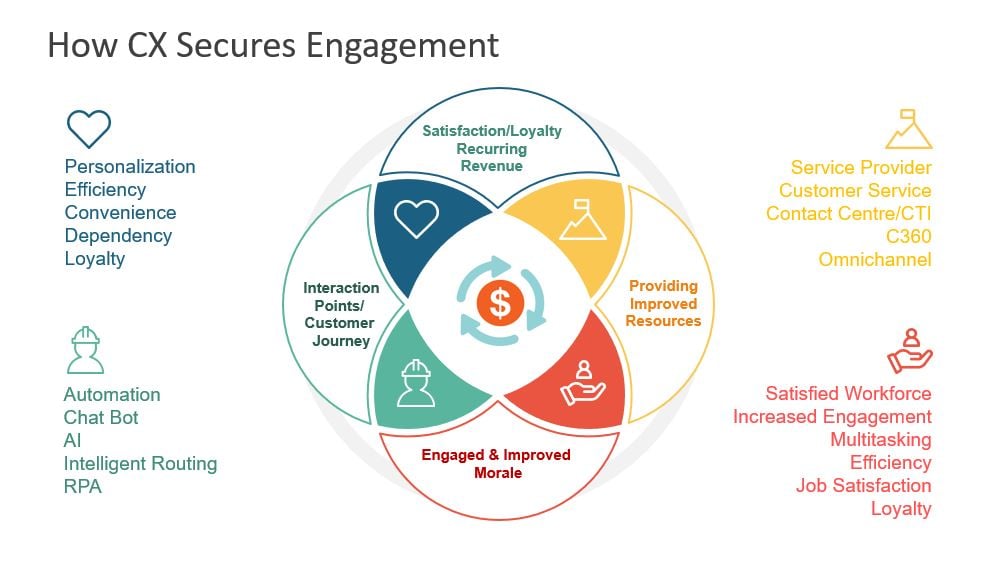 Who can Benefit? - Three Perspectives
Customers
Implementing self-service channels to leverage the CRM knowledge content often eliminates the need to call in and wait for a live agent. Many customers prefer robotic process automations assist them with troubleshooting instead of speaking to another person, which is a trend rooting from the desire for efficiency and the increasing focus on time-management, self-service, and service-response.
"As customers engage with self-service content, their usage and performance of that knowledge content is captured by the CRM system. And that system can hand off this real-time information to agents. When AI-powered automation integrates with CRM systems, employees have a 360-degree view of all activities related to each customer."



Employees
This hyper-connectivity doesn't just improve the lives of the consumers, it streamlines inquires for contact centers as well, improving their ability to provide a better service experience for the consumers, as well as their own experiences at the workplace.
With access to data-driven recommendations for best next steps, agents spend less time figuring out the best action to take next. They also don't need to ask the customer to repeat details. Instead, they can focus on what they do best: providing a better customer experience.
When omnichannel inquiries are filtered with chat bots, automations, and other AI; the service providers can properly escalate incoming calls received based various technology. Becoming a steward to enormous amounts of interaction data enables and empowers service providers to create an ideal service experience.

Business Owners
Employees who have a lower job satisfaction resulting from mundane and repetitive tasks, and inefficient processes to use when solving customer inquiries, ultimately become disengaged.
Disengaged employees cost companies incredible amounts of money over time, and with solutions now available to augment these dissatisfied workers; there are now practical ways to remove these massive strikes to your bottom line by creating an engaged team.
Now is the time for business owners to make use of these emerging technologies, and reap the benefits of a more engaged workforce, higher levels of customer satisfaction, and in turn; recurring revenue as a result of that customer satisfaction and brand loyalty.
Why is a Unified Approach so Valuable?
Traditional CRMs have a collection of information about the consumer stored away, with interactions and transactions recorded.
The relationship that consumers have begun to expect from their service providers is much more complex than it has been over the last 25 years. Their experience with the interactions will either encourage or discourage them to remain loyal to the brand, and once the appropriate digital methods have been 'trained' to focus on the experience factor of the service; these automations become a part of the consumer's more efficiently-managed life.
The customer's level of engagement is dependent on their overall experience with your brand.
When needs can be anticipated, reminders sent for appointments and meetings, and all of it tailored to that individual's specific needs; the consumer begins to depend on these automations to manage certain details of their lives. Tasks that once occupied their schedules are absorbed by the software and alleviate various aspects that may have previously take up the consumer's valuable time.
This transitions to brand loyalty and a recurring revenue source that all parties can count on.
What's Next?
It's likely you already have some pieces in place to help enable this 360-view of your customer-centric environment. Be it an efficient CRM, an engaged workforce, or satisfied customers; there are many pieces to this puzzle that may have already been put in place.
The reality is that systems can always be improved, and the emergence of these new technologies as a combined and cohesive unit can do far more together; than they can separately. How do you properly integrate them to create the perfect storm for your enterprise? That's where we can help.
Let us demonstrate how these technologies can coexist to provide you with the real value that Gartner and other industry leaders have identified as a true enterprise enabler.
If you're ready to next-level your business, we look forward to hearing from you.